Dear Pace Community:
Happy Tuesday from Pace Athletics! It is so exciting to see so much on-campus and off-campus activity before and after school these days. Representing Pace through athletics is a special opportunity—thank you for your ongoing partnership!
This Thursday at 7 p.m. at Henderson Stadium, our varsity football team will play its final regular-season game and then, on Friday, and the boys and girls state cross-country teams will compete in the state meet at Carrollton High School at 9 and 9:45 a.m., respectively. The varsity volleyball team will wrap up an exciting week in Pace Athletics on Saturday at 12 p.m. at LakePoint Champions Center and attempt to claim its fifth consecutive state title. Tickets can be purchased through GoFan.
Let's go, Knights!
Chad Wabrek
Director of Athletics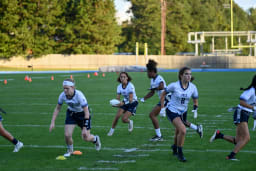 The varsity flag football team claimed a 7-6 victory in an exhibition game against Mount Vernon on Saturday, Oct. 30.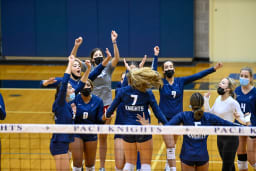 The varsity volleyball traveled to the LakePoint Sports Complex in Emerson, Ga., on Saturday, Oct. 30, to face Union County High School in the state semifinals.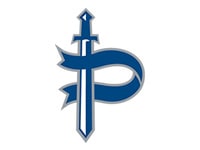 Monday, Nov. 1 marked the first meet of the 50th season of Pace Academy swimming and diving!
You can watch Middle School, club, junior varsity and varsity games that take place in the Inman Center and natatorium and at Riverview Sports Complex's softball field, multi-purpose field and Walsh Field on www.nfhsnetwork.com. To stream games as they happen, log in to your NFHS account or create a new one, and type "Pace Academy" in the search bar.
WHERE DO I FIND ATHLETICS NEWS?
IN CASE YOU MISSED IT (ICYMI)
What is your favorite Hostess "delight" below? #Delicious